New Zealand Part The Fourth - Windy Wellington (and no sign of Napoleon...)
---
08/03/2003, Waterfront, Wellington
I suddenly miss playing the flute, as a woman behind me does so very loudly, apparently in preparation for some arcane dance performance on the water. Or so the local newspaper informs me. What a cultural day it's been... a full day at Te Papa Tongarewa [the New Zealand National Museum] to see their Lord of the Rings exhibition (the security measures at which were tighter than the ones at Rotorua airport - fortunately they would allow pen and paper inside, so I will be able to produce a report of sorts for Robert's company and the third LotR zine of theirs. Who would have thought that e.g. half the Rohirrim were really bearded women? :).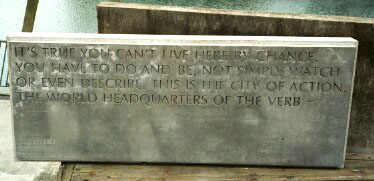 A motto for Wellington

Francie and the One Red Dog cafe were both loads of fun, though a little more shy at first than Padawan Kat. What ultimately broke the ice though was watching a rather beauteous guy bounce up & down in the sea a Oriental Bay quite inexplicably, occasionally gesturing with his arms but never making any moves to go anywhere or indeed to swim in the icy water. We traded saucy comments as we watched him get dressed, and collected suggested and/or titles for his behaviour. When he did us the favour of walking past us and being Maori, we decided on "underwater haka" unanimously.

The kapa haka [dance and song group] that surprised me at Te Papa was quite inspiring too - especially their leader, a stout, greying Maori woman radiating joy and life from every pore - the most perfect smile and the most talkative eyes. And natural rhythm. Just beautiful. I love her. Though it was a tad strange to hear "You're not Sick, You're Just in Love" reappropriated as a Maori tune. Magpies, these Maori bands, and good at it too.

I have yet to decide whether I'll weather his rather cool and windy setting until the show starts at 7.30 (assuming all the earnest people in red are the performers) or to try and find the Belgian (!) restaurant on Featherstone St again. I suddenly find myself with a craving for mussels and fries, or mosselen en frieten to be precise...
Believe it or not, this thing is a bridge! And the lagoon is just on the other side.
Later that night
Well, it was freezing all right. But beautiful. Crowds of dancers in and out of the water, fearlessly playing the landscape as if it were an instrument, and commanding the audience's attention to such an extent that there were audible gasps of surprise every time the scenario shifted to another part of the lagoon and its surrounding landscapes both natural and man-made. Final piece of wonder was a white canoe bookended by two Galadriels (or something) and, to everyone's surprise, filled with an army of girls' legs doing amusing and startling things. Of course I had been a little spoiled by the picture in the paper, but it really was stunning in the flesh as it were! And now here I am in the Belgian restaurant where the waitress is European-style grumpy and the orange juice is NZ-style very good. Mussels and chips, yum - both about twice the size of what I'm used to!
09/03/2003, James Cook Hotel, Wellington
Isn't it amazing how you can totally lose track of what day of the week it is after jumping halfway across all available time zones (and anyway New Zealand shops close at 5 whatever day it is), and still get a dose of Sunday night blues even though the Monday morning does not involve any horrors at all? Odd, that. Fortunately, Monday morning does now also look less likely to involve a trip to the doctor's as the awful itch is abating and the funny-smelling ooze is getting less too. Must have been the waters of Rotorua... any way, relief! I decided to stay around Wellington for the rest of the trip though, partly because I thought I'd have to take a trip to the doc and partly because I can't be bothered to lug all my stuff around yet more! So, day trips it will be!
Besides, Wellington is trying its damnedest to be as cool as Auckland, which meant Frances, her very bubbly & cool and much older-feeling 16-year-old best friend Steph and I ran into this street fair that involved lots of Maori kids getting false moko rubber-stamped on their faces (dusted with glitter in the cases of multiple girls and one fierce little green-glimmering warrior) by a guy with a real one (saw two today!), and a kapa haka group that very nearly destroyed the stage with their violent stomping. Considering they were only at half strength due to said stage's size, that's pretty scary.
After them, and still free, came NZ's hip hop sensation, Nesian Mystik, which explained the high concentration of Maori in the audience. Not that I was complaining, mind... and even though I still don't like hip hop much I found myself quite enjoying them. Totally not-grim and much more about respect than about violence and brainless bragging. Good combination actually - after seeing the kapa haka I had commented to Frances about how I couldn't understand why on earth there weren't more Maori rappers given their trad styles of movement, posturing and recital. Well, there are.
10/03/2003, Cuba St, Wellington
Wellington: applied chaos. I'm on the 5th floor looking to one side of the building and on the 15th looking the other way. The Chinese gift shop Dong Long is fortunately not quite next door to the baker Mr Bun. A bomb scare on Saturday night meant I had to take refuge at Francie's because the police & fire brigade wouldn't let us anywhere near the hotel. (and no, it was just a pizza box. *sigh*)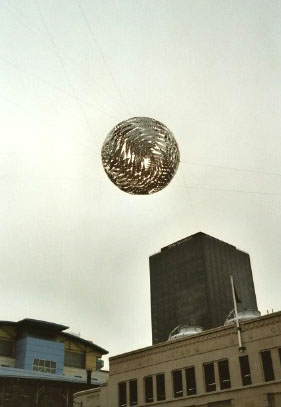 A delicate ball of aluminium fern (all right, silver fern to the Kiwis) floating above Civic Square in Wellington

And the bucket fountain in Cuba St plays merry havoc with the principle of bucket fountains everywhere, splashing randomly and illustrating Wellington's particular brand of chaos. I've just bought an Anika Moa T-shirt saying 'kia kaha nga titties o te whenua'. Power to the titties of the land indeed. Must call Padawan Kat as it looks like I'll have half a day in Auckland just before I leave. Yay!

And a gambling/flippering saloon has a life-size stormtrooper in its window. Which wouldn't be too exciting if it wasn't for the place's address - in Lukes Lane.
---
On to Pram & Paprika
Back to index