New Zealand Part The Second - A Bay Full Of Islands!
---
01/03/2003, Cottle Court Motel, Keri Keri
Bliss! Not only is the weather gorgeous over here (a surprise after passing through 15 kinds of weather on the way up here), Evenstar is out in all her glory, there are no insects except for funny noisy cicadas, there is a tiny pool and a restaurant with a dead fish for its logo and a marshmallow fish coated in chocolate for dessert (and huuuuuge mussels!). What is this place - paradise? I may well be tempted to stay longer... a half-deserted post-season resort town small enough to fit into my pocket. Yet it has an i-net cafe, a travel agent, some sea, some ancient bits... and three more specimens for my Maori smile collection.
I've made it my mission to flirt with as many Maori as possible! The one in the pool and his little son - Jango and Boba, but happier, like... fish in water. And the funny silly waiter at the dead fish cafe... *smirk* Think I'll be back to amuse him a bit more - the face-splitting grin he gave when I made a face at the pink marshmallow fish was just collectably cute.
02/03/2003, the bush outside Keri Keri
It's loud here - I wonder if Kuai would hear what his master had to say if they didn't have mindspeak. The cicadas are everywhere, the trees make crackly noises, and a small tit-like bird has just spent ten minutes talking to me, in what I assume is the secret language of birds, and very varied it was too. The size of that black-and copper dragonfly still amazes me, and the butterfly of the same colour that glided without ever beating its wings... black and copper should be perfect for Kuai as they are the colours of his loved one's face.
And the blue of the sky (what is a stamp-sized Liam doing in my morning crossword?). Father Rangi has stopped crying and is merely very moody [the Maori explain rain as the tears of Father Ranginui, or Sky, mourning the separation from Mother Papatuanuku, or Earth], which seems to amuse the birds. It's sticky and warm in the bush, and I think I'll stay here a little longer. After I've found that blasted pa [fortified village] - honestly, if I were Hongi Hika I would have built it on top of that hill, not downhill... but then, I haven't found it yet, so who knows...?
harakeke, hard leaves but rounded red edges, is easily the toughest plant in existence - not to be cut without tools at all! And someone plaited some harakeke while still alive on the plant - into basket shapes and a koru [rolled-up baby fern leaf, source of new life... and of all the spirals in Maori art!]... nice sense of humour!
Stop press: I can do that too now, and have done :) Hongi Hika was right. I would have built the pa in this exact place too. Mentally replacing he sailing yachts with nga waka [dugout canoes], the place feels just right. Except TRA would not reside in a pa, seeing as he's gone off the idea of war in his old age... on to find Rewa's Village, and some, one hopes, not-silly Maori.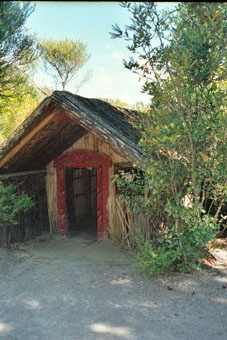 Home - a sleeping house. And sleeping is pretty much all they did inside the houses - life happened outside.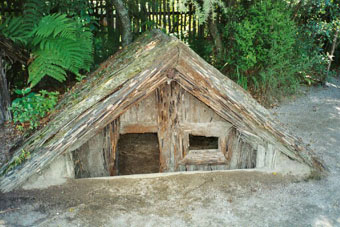 And as the earth in New Zealand tends to be warm - this is the winter version. The door is just big enough for me to squeeze through!

PS: No Maori. Suited me fine - I brought my imaginary ones.

02/03/2003, Cottle Court Motel, Keri Keri

I have
a) an interestingly-shaped sunburn on my back from where I couldn't reach to apply the ultra-potent sunscreen I bought. Must remember to enlist Kiwi help next time, especially if I'm going to the beach in Paihia tomorrow!


b) just laughed my head off in an Indian restaurant (and the lassi was off, dammit - I know what lassi's supposed to taste like, and as this is not Rotorua yet, I refuse to accept the strong sulphurous note!) where a curious little waitress wanted to know what I was scribbling. I proceeded to tell her the sordid tale of a story that started out as sci fi and now was all about Maori. She literally bubbled over with ideas - and the one that had both of us laughing loudest was the 'laser taiaha'... sadly George Lucas got there first, mate. :)


c) just seen the Milky Way for the first time in my life. Am overwhelmed. There's... so many stars!
*thud*

03/03/2003, Cilantro Restaurant, Keri Keri

It's official - I'm turning into a Kiwi! Not only has the constant onslaught of rain, sun, and lately sea water turned my hair into something of a cross between sheep wool and Kiwi feathers... this morning I overheard someone shouting at their dog and understood what he was saying. Only a second later did it occur to me that he had been speaking Maori! Noho ki muri - stay in the back.

Took a trip to Paihia today and proceeded to not do anything remotely touristy, which isn't easy in Paihia. The place was swarming with Germans, so I chose to loaf around on the beach, enjoying the great waves of Te Moana Nui a Kiwa [the Pacific] and letting the sand get everywhere... glorious weather! (Notwithstanding the cloudburst last night... as long as it rains by night I'm fine with that :)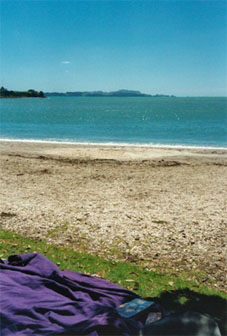 Still life with beach and Jedi robe!

Gave in and walked to Waitangi after all, seeing as it was within walking distance. Gave the Treaty House a miss in favour of the whare runanga [meeting house], but was disenchanted enough with all the Canadian and German coach load tourists in there that I actually abased myself and took pictures. Grinned a bit at the canoe shelter, whare waka, which nowadays just means 'garage' to your average Maori!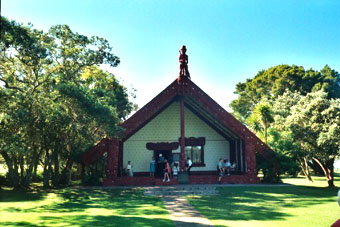 Whare runanga at Waitangi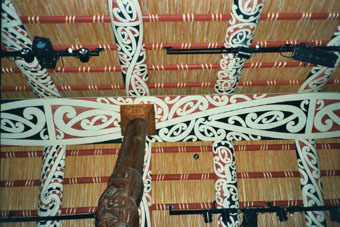 The ceiling of the whare runanga at Waitangi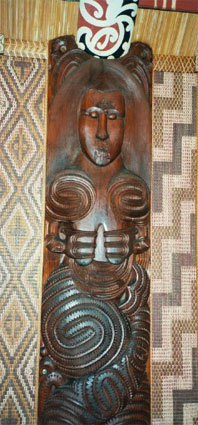 Half-fishy ancestress supporting the walls...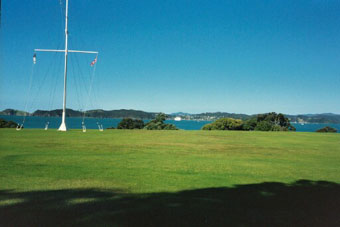 And this is where New Zealand as a nation was founded, in a marquee on Feb 6, 1840. Nice place to start a country if you can get it, I say.
The lamb I ordered does not, after all, come with kumara [sweet potatoes]. Pout. I am determined to find out what the stuff tastes like. But then, I can prob'ly grab a hangi [traditional Maori feast involving an earth oven] in Rotorua, where I'm going tomorrow, sadly without a birthday lift from the big surly Maori who offered me one. I already have a coach ticket, darling... so off I am to the place that the Kiwis pronounce as if it had only one syllable - 'Rdrooa'. I will stick to the Maori pronunciation, dammit! :)
Unh. That lamb was... moan-inducing. Best I've ever had, and that's saying something after the lamb I had for my graduation. Have caved in and ordered dessert, just because it might be just as brilliant. And I can easily go without eating tomorrow... call it an early birthday treat!Watching through the blinds as a cute wahine [woman] blow-torches my dessert... creme brulée indeed!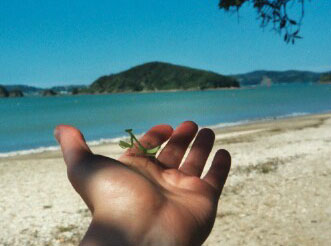 A little alien landed on my hand at Paihia.
04/03/2003, roadside impressions
Keri Keri has a Lions Club chapter, a Rotarian chapter, and a Masonic lodge. I'm impressed.
Near Whangarei, a vintner uses inflatable sex dolls to keep the birds off his vines. I'm highly impressed, as they're even wearing underwear and stockings!
The local Maori tribe-let in Wellsford between Whangarei and Auckland is called the Ngati Wainui. That was to be the name of my fictitious tribe.
Bummer!
---
On to Rotorua
Back to index